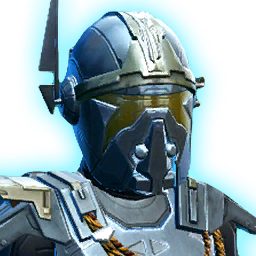 Shae Vizla
The Mandalorian Legend
An infamous bounty hunter and deadly warrior, Shae Vizla forged her reputation more than 20 years ago by allying with the Sith Empire against the Jedi and Republic. She reluctantly took up the mantle of leadership for her people after the rise of the Eternal Empire and the death of Mandalore the Vindicated. Declaring herself Mandalore the Avenger, she now works with the Outlander's Alliance to break Zakuul's iron grip over the galaxy.
Attributes
NPC reference:
Shae Vizla
Category:
Rewards
Equipment slots:
Main hand: ranged weapon
No off-hand
Gender:
female
Max influence rank:
50
Influence cap:
250,000
Travel to companion
If you meet this condition, you'll be able to travel to this companion at the given location.
| Condition | Travel location |
| --- | --- |
| travel_to | 4611686303496684003 |
Interactions
Here you can see how your decisions influence your companion, once their respective condition is met. Make sure to choose wisely because they will affect you later on in the story!
Used in conditions
This companion is referenced in the following conditions to check if the condition is met.
Gift reactions
Use gifts to increase your influence with this companion. Make sure to use gifts loved by the companion for the highest influence gain!
| Type | Reaction |
| --- | --- |
| Weapon | Favorite +++ |
| Military Gear | Love ++++ |
| Courting | Like ++ |
| Luxury | Indifferent |
| Technology | Like ++ |
| Republic Memorabilia | Indifferent |
| Imperial Memorabilia | Love ++++ |
| Cultural Artifact | Indifferent |
| Trophy | Like ++ |
| Underworld Good | Indifferent |
| Delicacies | Indifferent |
| Maintenance | Indifferent |