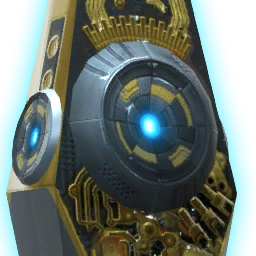 K-A3
The Iokath Sentinel
Recovered and reprogrammed by Republic forces, this Iokath probe seems absolutely effervescent in its eagerness to fight by your side.
Attributes
NPC reference:
K-A3
Category:
Cartel Market
Equipment slots:
Main hand: ranged weapon
No off-hand
No outfit slots
Gender:
male
Max influence rank:
50
Influence cap:
250,000
Used in conditions
This companion is referenced in the following conditions to check if the condition is met.
Gift reactions
Use gifts to increase your influence with this companion. Make sure to use gifts loved by the companion for the highest influence gain!
| Type | Reaction |
| --- | --- |
| Weapon | Indifferent |
| Military Gear | Indifferent |
| Courting | Indifferent |
| Luxury | Indifferent |
| Technology | Like ++ |
| Republic Memorabilia | Indifferent |
| Imperial Memorabilia | Indifferent |
| Cultural Artifact | Indifferent |
| Trophy | Indifferent |
| Underworld Good | Indifferent |
| Delicacies | Indifferent |
| Maintenance | Love ++++ |